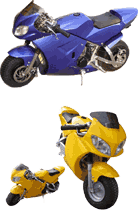 49cc Z600 Pocket Bike Specs
Engine: 49cc 2-Stroke

Max Speed: 25 mph+

Fuel Gas: & 2 cycle oil

Fuel Tank Capacity: 0.5 gallon

Starting Method: Electric & Manual Start

Drive Method: Chain

Transmission: Automatic

Max Load: 300 lbs.

Brake System: Disk (Front & Rear)

Dimensions: 40.5" x 18.25" x 16.75"

Cooling System: Air Cooled

Wheels: 13" Tires

Shocks: Front & Rear

Lights: Brake light & head lights

Ignition: Key

Horn: Yes

Battery: 12V/7Ah / Includes battery charger.

Gauges: Speedometer

Assembly: 100 % assembled

Warranty: 30 day warranty.
$499
Style: Pocket Bike
Vendor: Scooter Domain
The statement on the Scooter Domain website claims "Due to the weight of this scooter it cannot be shipped Ups or Fedex, it will be damaged 99% of the time. So it can only be shipped in pairs on a pallet via freight line."
I could not find a weight anywhere in the specs, but looking at the top speed of 25mph for a 49cc pocket bike, it must weigh a ton. It's a full 11" shorter than the 49cc YS49 Pocket Bike too, but still weighs more. I like the look though; an improbable blend of Grand Prix and Moped. The full fairing looks sharp and I like the treatment of the headlights too.
This one has it all, brake lights, headlights, horn, key ignition and big 13" tires. Again, let me remind you to never use these pocket bikes for street use. The profile is much too low, they go too fast, and cannot be seen even with a rider on board. Don't let the brake lights fool you for a minute that these belong on the road.