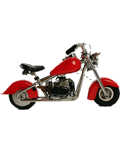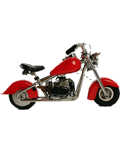 Pocket Harley Gas Scooter
Maximum Speed: 30 mph

Batteries: 12V - 4.5A (Battery for headlight)

Range: 25 to 30 miles per tank

Charge Unit: 110V-130V

Frame: Steel Frame

Engine: Single cycle, two-stroke gasoline engine

Foldable: no

Gas Tank: 1 L

Drive System: Chain

Fuel/Oil Ratio: 25:1

Tires: 9" pneumatic DOT approved tires

Starter: pull cord only

Brakes: Front drum and rear disc brakes

Warranty: 30 days

Carrying Capacity: 240 lbs

Muffler: High Performance

Custom: Metal wrapped throttle and brake cable

Headlight: Huge Cyclops custom design

Suspension: Front

Frame: Steel

Finish: Baked Powder Coat

Pegs: Highway Style

Performance Accessories: Available

Age Recommendation: 16 and up
Now $399 !!
Pocket Harley Gas Scooter
Style: Pocket Bike
Vendor: Samszone
This may more appropriately be referred to as a mini-chopper, but the site that carries it, represents it as a Pocket Bike. No matter what you call it, I like the lines of this pocket bike are second to none. It has the big, post seat reminiscent of the early Indian Motorcycles, the huge Cyclops headlight and check out the teardrop gas tank and low rider fenders. I actually prefer the open frame design to a lot of fairing which hides the engine and frame. This pocketbike has the classic obtuse triangle frame design, giving it that chopped appearance while keeping the tire sizes equal. The engine size is not stated, but with the stated top speed at 30 I will guess it's in the 42-43cc range. It would be nice if they told you what sort of drive system it had too. From looking at the large pictures it would appear to be a chain drive. Look how they relieved the rear fender to let the chain clear it.
You really need to check out the larger images to fully appreciate the design. The dual disc brakes are a nice touch, as are the spokeless rims.