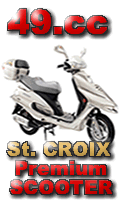 49cc St. Croix Premium Scooter
Gross Weight 195 lbs
Engine Type 4 Stroke, Air-Cooled
Starter System Electric, Plus kick-starter
Bore/Stroke 39 x 41.5
Engine Displacement 49.5 cc
Compression Ratio 10.5:1
Max Power (hp) 2.55 @ 7,500 rpm
Max Torque 2.8 @ 6,000 rpm
Brake F/R Disk/Drum
Transmission CVT - Completely Automatic
Overall Length 65 inches Height 26.8 inches Width 42.1 inches
Ground Clearance 4.1 inches
Fuel capacity 1.1 gallons
Max Speed (mph) 30-45 mph (unrestricted 35-47mph)
Miles Per Gallon 85-90 mpg
Packing Dimensions (L x W x H) 5'2" x 2'2 ' x 3'6"
Wheel Type Rubber, tube
Standard Features:
Center stand & side stand, Automatic CVT transmission, Telescopic hydraulic dampened front suspension, Monoshock suspension rear, 2-passenger seat, Under seat storage compartment, Speedometer, Fuel gauge, Turn signals, Left and right mirrors.

Style: Moped
Vendor: Rad Scooters
If there was a scene that required a moped instead of a Harley in the Terminator film series this would be the casting choice. You really need to click on the small picture I have here to go and see the bigger detailed pics.
In particular note the trim that defines the "shark nose" moped design in the front. I can't quite make out the front shock absorbers , but they look fairly high tech as well. This moped looks like it's already hitting it's top speed of 50 Mph even when it is standing still.
You also get the four stroke engine. To read the review of the only other 4 stroke moped that I represent click here to see the Qing Qi 6V Retro Gas Powered Moped.
If I set aside my obvious preference for the Retro Mopeds for a minute and compare this moped to the Qingqi 10A Moped I would have to say that I would probably not spend the extra $250 to get the St. Croix. The four stroke moped (The St. Croix) is attractive, but not worth $250 to me. I still get the disc brakes, all the instrumentation, same top speed, and a great looking moped in the Qingqi 10A Moped.