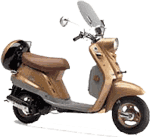 Engine Type: 1-cylinder 2-stroke

Engine Displacement: 49cc

Maximum Horse Power: 2.2hp @ 6500 rpm

Maximum Climb Angle: 12 degrees/60kg

Clutch: Wet centrifugal clutch

Fuel Capacity: 1 Gallon

Fuel Economy: 110 mpg

Transmission: Automatic

Starting Mode: Electric Starter / Kick Start

Controlled Mode: Rotary Throttle Handle (Motorcycle Grip Throttle)

Brakes: Front and Rear Drum

Drive Mode: toothed belt

Tires: Large 16 Inch Wheels (outside measure)

Seat: For 2 Adults

Warranty: 30 Day Factory Warranty on Workmanship and Parts

Top Speed: 35 mph

Max Load: 265 pounds

Dry Weight: 150 pounds

In Dash Speedometer, Odometer and Fuel Gauge

Large Lockable Front Glove Box

Locking Steering Column

Under Seat Lockable Storage

Headlight, Taillight, Turn Indicators and Horn

DOT Approved Street Legal
$899
49cc QingQi H Retro Moped Gas Scooter
Style: Moped
Vendor: Neo Scooters
Harvey's Choice!
This moped represents Neo Scooters entry level moped. Most all of the mopeds will come in around 49 or 50cc's so the features that will distinguish one moped from the other will be in the type of brakes, size of the wheels and such features as speedometers, odometers and gas gages. This moped has all three and also comes with 16 inch tires which will cut down on the vibration considerably.
Note the locking front glove box and anti-theft locking steering column as well. It would have been nice if the brakes had at least one disc brake, but for the price, drum brakes will do the job. This moped will accommodate two passengers.
If you can afford to spend a bit more check out the Milan Retro Moped and the Qing Qi 6V Sport Retro Moped.