Whether Retro Moped or Modern the moped is always in style!
Driving a QingQi Moped is like owning a cute dog. Everyone wonders what breed it is, and wants to take it home with them. In this article we explore the sudden resurgence of the indomitable moped.
---
Mount a MOTor on bicycle with PEDals and you have a MOPED. That was the early origins of what we today call a moped or a scooter. Obviously today's Qing Qi Mopeds do not have the pedals to assist what was typically an underpowered engine (or an engine to assist an underpowered person pedaling depending on your point of view). No, today's gas mopeds are slick, well designed motorcycle type gas scooters capable of going up steep hills and achieving speeds in excess of 50MPH.
Mopeds are also unique in that most of them have engine sizes 50cc or under, making them legal to ride without a motorcycle license. Check with your local police to verify that this is the case for your particular state prior to ordering one. You also should recognize if unlicensed, the expectation will be that you ride in a manner similar to how a bicycle would be ridden, not necessarily in traffic as an automobile would be driven. It may make sense to go ahead and get the motorcycle license anyhow.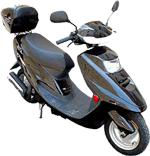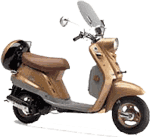 Mopeds bring a certain sense of nostalgia. The design shows it's European origins even in the typically imported mopeds from China. The wholesalers recognize the nostalgic pull of these mopeds and have several designs that are more retro than others. The Qing Qi Retro moped to the left is an example of this type of retro design. To the right is the more modern 4G Thunderbolt made by the same company.
Mopeds are more expensive than a gas scooter powerboard of the same engine size mostly due to the greater amount of raw materials that go into making one. The tire sizes will be in the 15" range as opposed to the 9"-10" found on a gas scooter, and it goes without saying the the moped body requires considerably more material and labor to fabricate. However, mopeds will hold their resale value better than a powerboard.
You will find that lights, shock absorbers, key ignition, are standard on most mopeds. Hence, mopeds make ideal vehicles for commuting longer distances. There is surprisingly large amounts of storage under the seat in most mopeds. In fact it's similar to a trunk, usually with a key lock of some sorts.
You will find variations in moped brakes. Many will come with a drum/disc mix or with drum brakes front and back. In my opinion this is to avoid having to go to a hydraulic disc brake system due to the heavier mass of the mopeds which would be prohibitively expensive. If you plan to carry more than one person, be sure to look closely at the design to insure there are either rider pegs or a place for your passengers feet.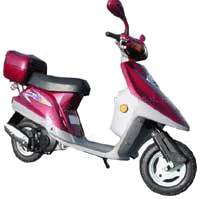 We carry over 9 mopeds in our line up, including the entire Qing Qi Moped model series. The QingQi moped originates in China and carefully copies the original Italian design. Spend some time on our comparison pages and I am confident that you can find the perfect moped that meets your needs.
Now Click here to see our complete line up of 9 Mopeds!!
---
We try to answer all your questions in the articles above. Still have a question? Write to us at info@gas-scooters-on-the-web.com and we'll answer it.