Four Stroke Gas Scooters
Four Stroke Gas Scooters in my line up will be featured on this page as they become available
---
C7-3 Speed Four Stroke Custom Mini-Chopper
What struck immediately about this gas scooter, was the sharp rake of the front fork and the soft tail seat. I am partial anyhow to high angle frames (where the line of the of the top of the mini-chopper gas tank appears to be heading up hill) anyhow, this custom mini chopper has the right balance.
So why is this scooter $699? Let's start with the front end. Fully hydraulic shock absorbers, as well as hydraulic front disc brakes. Hard to improve upon that. The engine is maxxed out at 49CC and the unit has a centrifugal clutch with a chain drive. Full blown motorcycle tires round out the package. Note that the rear gas scooter tire is two inches smaller than the front tire, further enhancing the chopped appearance of this custom mini-chopper.
More Pictures & Latest Pricing.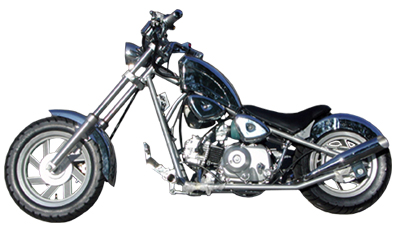 C7 Mini Smith Chopper Specification

Engine 49cc four strokes, one cylinder
Fuel Tank Capacity .25 Gallons
Seat Yes / Height is 19"
Range 30 Miles
Drive Train Rear Wheel Chain Driven / Auto Chain Tensioner
Front Tire: 90/90-12 MOTORCYCLE TIRE
Rear Tire: 130/60-10 MOTORCYCLE TIRE
Frame Steel / Painted
Front Brake: HYDRAULIC DISC
Rear Brake: MECHANICAL DISC
Speed: 25-30 mph depending on riders weight.
Starting system Pull start & Electric Start
Clutch Type Centrifugal
Dimensions L 67 x W 19 x H 32
Ground Clearance 4.5"
Overall Weight 120 lbs Maximum Load 330 lbs
Color Chrome, Blue/Green, Black
Scooter speeds may vary depending on weather condition, terrain and weight of rider.
---
We try to answer all your questions in the articles above. Still have a question? Write to us at info@gas-scooters-on-the-web.com and we'll answer it.
GOT GAS SCOOTER PARTS?

I get mine from Neo Scooters. What you see below are actual pictures from their parts catalog. No more guessing if you have the right part by an obscure description. They sort by the model of your scooter and have pictures of each part, with the price and part number. With Free Shipping Included, you cannot go wrong. Look for their parts link in the lower left corner of the page the link below (or above on the Neo logo) takes you to.

---
Not convinced that you need another newsletter?; Had you signed up earlier you would have been the first to know about Neo Scooters huge February sale. You would have heard about Rad Scooters buy one get one for half price Dirt Dog sale. You would have been the first to see the new Bladez Moby XL monster just released by Trendtimes.com.

And better yet, you would get these articles delivered directly to you. Sign up for our newsletter and have this online gas scooters content delivered directly to your mailbox. Feel free to .