Gas Scooter Tires; Size Does Matter
As engines reach higher levels of performance, it's becoming more important to consider what sort of tires you are getting with your gas scooter.
---
As recently as three to five years ago tire sizes

for gas scooters were almost an afterthought. Very little variety in diameter, tread and width. But as you can see from our gas scooter comparison chart tire sizes for gas scooters now range from a low of 8" to a high of 16" with many different choices of widths and treads.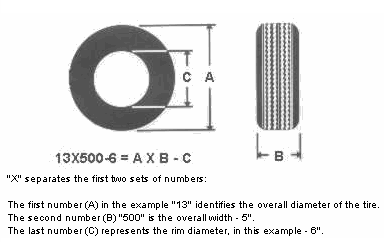 Tire selection will determine several key aspects of how your gas powered scooter will perform. Tire sizes (chart pictured) determine the ground clearance of the scooter which can be important if you plan to use yours extensively off of paved roads. It's aggravating to have to jump off every time you approach a small hump in the road so as not to bottom out. A gas scooter with a 9" tire will typically have around 4" of ground clearance which is about as low as you would want to be.
Larger diameter tires also put more tire on the road (they have a bigger footprint) and that enhances braking effectiveness as well. The width of the tire will also improve the braking efficiency as well. To maintain the performance of your scooter (translated as maximum speed) it's important to keep your tires inflated at pressures higher than typical for a car or bicycle. Car tires typically run around 34 Psi, bicycles around 55 Psi, and some scooter tires will take as much as 80 Psi! Be sure to check your manual first before attempting that high of an inflation pressure. Not all gas scooter tires will take that much air! A tire that hard needs a decent tread pattern to be able to stop when the tires are locked up. Most manufactures realize this and have incorporated a deeper tread.
Rims can also affect your scooters performance and maintenance requirements.

Typically rims are made of either fabricated steel or machined aluminum as shown here. The solid rim (pictured) will have less problems with staying true, but will typically be of a smaller diameter than a spoked rim.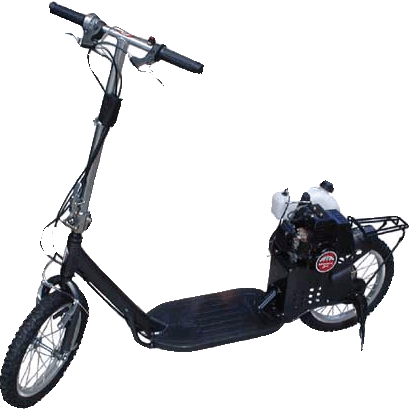 Visit our Products link to see the Mosquito Stinger shown on the left, from Urban Scooters. This high rise scooter runs on 16" spoke rims that are 2.5" wide. Great ground clearance and one of the few spoke wheel gas scooters that pulls off a sleek looking design. The big tires and the inherent shock absorbing qualities of a spoke rim guarantee a smooth, classy looking ride. This particular gas scooter is a favorite amongst people who use gas powered scooters to commute every day. The larger rims reduce the need for shock absorbers, and reduce vibration and rider fatigue by having slower, turning wheels than typical 9" rims.
The largest solid wheel gas scooter you will find in our comparison chart is the Mosquito Hornet shown below, also from Urban Scooters.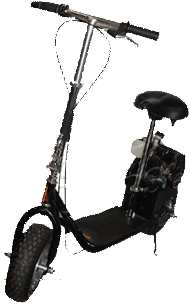 This rugged scooter runs on 13" x 3" tires rims. Urban Scooters offers a 5 year warranty on the frame for this model in part because the huge tires take up most of the punishment.
Some gas scooters have a different size tire in the front than the back. Be sure to calculate the ground clearance based on the smaller tire. Again, the more tire surface there is on the pavement, the better the stopping. Some scooter enthusiasts like the profile of a "fat" tire. This can be an asset if you are purchasing a scooter without shock absorbers. Take a close look at the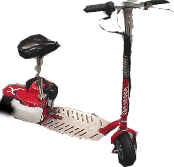 Rad Cruiser. Here is a great scooter, that's affordable without shock absorbers, but they got it right and put a 9" tire on it that's fatter than most at 3.5" wide. For the price Rad Scooters is asking, you really get a great deal since they ship for free and you get a free toolkit as well. If you cannot afford the upgrade to shock absorbers, that's the way to go. Remember, if you buy a gas powered scooter that does not have shock absorbers, you want the largest tire available. Our comparison chart shows you which scooters come with shock absorbers and gives you the tire sizes front and back.
For those of you doing a lot of off road riding, or even riding on pavement near bushes and shrubs, you might want to consider a product called Slime. Slime is available from any bicycle shop and is a product that self seals punctures in the tubes of bicycles. You take out the valve stem with a special little tool that comes with the product, and squeeze about a quarter of a bottle in each tube. Put the valve stem back in, inflate and you are ready to go. I found that my tires hold their much better with this product. Changing out tubes on gas scooters is not fun, so take the precautions before you need it.
Like a car, gas scooter brakes play a big role in stopping distance. If you missed our article Q&A: Gas Scooter Brakes?, that's the link to find it in our archives.
---
We try to answer all your questions in the articles above. Still have a question? Write to us at info@gas-scooters-on-the-web.com and we'll answer it.
GOT GAS SCOOTER PARTS?

I get mine from Neo Scooters. What you see below are actual pictures from their parts catalog. No more guessing if you have the right part by an obscure description. They sort by the model of your scooter and have pictures of each part, with the price and part number. With Free Shipping Included, you cannot go wrong. Look for their parts link in the lower left corner of the page the link above on the Neo logo takes you to.

---
Not convinced that you need another newsletter?; Had you signed up earlier you would have been the first to know about Neo Scooters huge February sale. You would have heard about Rad Scooters buy one get one for half price Dirt Dog sale. You would have been the first to see the new Bladez Moby XL monster just released by Trendtimes.com.

And better yet, you would get these articles delivered directly to you. Sign up for our newsletter and have this online gas scooters content delivered directly to your mailbox. Feel free to .