Gas Scooter Shock Absorbers
Often regarded as a luxury item when purchasing a gas scooter, shock absorbers can also protect the gas scooter frame and other components.
---
Gas Scooter Shocks
Shock absorbers sometimes appear almost as an afterthought in today's ad copy for gas scooters. You see lot's of hype about gas scooter engines, brakes, top speeds but not a lot about shock absorbers. Shock absorbers or "shocks" as they are referred to are typically made up of a captured spring with two rugged mounting points, as shown to the left. The better shock absorbers will also incorporate some sort of dampening mechanism to prevent the gas powered scooter shock absorber from simply acting like a big spring. This is accomplished by filling a cylinder with thick hydraulic fluid and then putting an piston inside that compresses the fluid, that then leaks by through a calibrated hole in the piston. In this manner, the shock has a range of travel, and the bump is absorbed via the compression of the fluid. The spring returns the shock to the original position. Better shocks will have a graduated spring adjustment (look at the silver sleeve to the left and note the settings) that allows the rider to set it for a stiffer setting if he will be riding off road, or if a heavier rider than a child uses the gas scooter.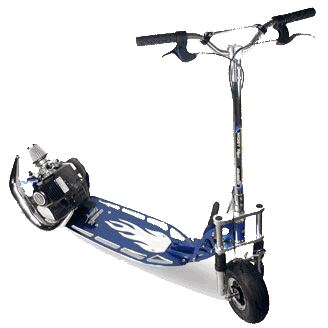 Shocks obviously make for a smoother ride, but they also provide another benefit. The scooter frame takes much less of a beating from jumping and the day to day jolts associated with riding a scooter. Frames are a fabricated assembly (means that they are welded together from an assortment of hollow tubes) and each of those welded joints are a potential source of cracking and eventual failure. In addition the components on your scooter such as the lights, the engine and the wheel bearings are all subject to accelerated failure as a result of the vibrations induced by not having shock absorbers.
One other obvious benefit to gas scooter shock absorbers is their great looks. This Bladez Moby XL from Neo Scooters has a boss looking front end due to the long throw shocks it comes with. I recommend that you take a close look at the Bladez gas scooter line up at Neo Scooters; over half of their scooters come with shocks and are a great high performance unit. To find out which other gas scooters come with shocks go to our gas scooter comparison chart where you will find both a picture of the scooter and the notation of whether it has shocks or not. In less than a minute you can conduct a sort by the features you want.
You will find that those scooters indicating that they have shock absorbers front and back, typically will have what is called a mono-shock in the rear. To prevent the back end of the scooter from becoming disproportionately wide, the designers incorporated a single cylinder shock that sits right behind the foot deck, in the centerline of the scooter. This is a proven design that has gained wide acceptance in mountain bikes.
I would pay a premium to get a gas scooter that had shock absorbers, especially if I planned for it to be used off road, or had teen age kids (as I do) that no doubt would enjoy jumping it. It's a feature that will extend the life of the scooters components, makes for a more enjoyable ride, and looks great to boot.
---
We try to answer all your questions in the articles above. Still have a question? Write to us at info@gas-scooters-on-the-web.com and we'll answer it.
GOT GAS SCOOTER PARTS?

I get mine from Neo Scooters. What you see below are actual pictures from their parts catalog. No more guessing if you have the right part by an obscure description. They sort by the model of your scooter and have pictures of each part, with the price and part number. With Free Shipping Included, you cannot go wrong. Look for their parts link in the lower left corner of the page the link above on the Neo logo takes you to.

---
Not convinced that you need another newsletter?; Had you signed up earlier you would have been the first to know about Neo Scooters huge February sale. You would have heard about Rad Scooters buy one get one for half price Dirt Dog sale. You would have been the first to see the new Bladez Moby XL monster just released by Trendtimes.com.

And better yet, you would get these articles delivered directly to you. Sign up for our newsletter and have this online gas scooters content delivered directly to your mailbox. Feel free to .