Pocket Bikes; Huge fun in small packages
Anyone following the gas scooter scene can't help but see the sudden overwhelming popularity of so called pocketbikes. Pocket bike clubs, pocket bike racing and pocket bike stores are seemingly everywhere. This week we take a closer look at what all the excitement is about.
---
Significant price drop to the pocketbikes that I represent in June and July 2004.
Pocketbikes have actually been around for awhile. Back in 1996 racing leagues began forming in Europe mostly is Switzerland. There are currently 8 championship races per year on 8 different tracks producing Swiss Champions of each year.
Pocket bike motorcycles (often incorrectly referred to as gas scooters) are true miniature Grand Prix (GP) racing motorcycles. Grand Prix refers to a style of motorcycle racing that takes place on large paved raceways, often at speeds well in excess of 100MPH. The most expensive pocket bikes are close to 100% accurate in replicating their relationship to a full size GP motorcycle.
These highly detailed miniature motorcycles are often referred to as "motor art" so painstaking is their replication. But that is where the relationship to art ends. These tiny dynamos are capable of hitting 75MPH despite their small size. Pocket bikes are famous for dumping riders unceremoniously off the back, when a new rider underestimates their power and gooses the throttle for the first time. A well tuned, race ready 50cc pocket bike is capable of producing upwards of 12 hp at a curb weight of only 48 pounds. The power to weight ratio of these pocketbikes is nothing short of staggering. Although primarily intended for closed circuit racing, a pocketbike can carry a 300 pound rider due to their design and short wheelbase.
Pocket bikes generally fall into two sizes. "Mini's" typically have a 27" wheelbase (distance from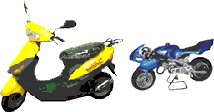 Similar to gas powered scooter pocketbikes can be upgraded with high performance parts. One clear distinction between a pocketbike and a gas scooter though, is that a pocketbike should never be ridden on public roads. You are far to close to the ground to be seen as you would if you were a proper gas scooter. If you are looking for road worthy motorcycle style transportation, then you should consider one of the many mopeds I represent. You can see the size comparison here.

In that these pocket bikes are capable of hitting higher top speeds you really need to insure that your proposed purchase has disc brakes . Just about every model pocketbike that I represent comes standard with disc brakes. Shock absorbers are not as important on pocket bikes in that they are always raced on smooth payment. If you plan on competing don't consider anything less than a 4.2hp model (not represented on this site!). The next size down is usually 2.5hp which can reach top speeds of over 40 Mph.. The next size up from the 4.2hp series is 6.2hp, and are geared towards the person who wants a quick bike but is not yet ready to race. Race ready pocketbikes will generally be in the 7.5hp-8hp range.

I represent over a dozen pocketbikes ranging in price from $299 to $559. Of the group my personal recommendations are the the 43cc G 12-2 Pocket Bike

and the Pocket Harley Gas Scooter.

Pocketbikes are one of the few gas powered vehicles that are much fun to look at as they are to ride. If you have been longing for a full size Gran Prix style motorcycle but couldn't pony up the price, these pocket bikes would make for a fun alternative.

Click here to see the full line up of over a dozen pocket bikes.
---
We try to answer all your questions in the articles above. Still have a question? Write to us at info@gas-scooters-on-the-web.com and we'll answer it.