Custom Mini Choppers; Big Bikes in miniature
Mini chopper motorcycles are becoming more and more popular. We walk you through how to select your gas scooter mini chopper.
---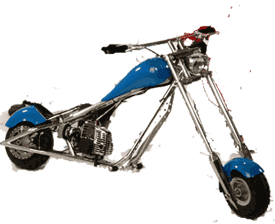 Click here to see the full line up of custom mini choppers!
Mini Choppers or Custom Mini Choppers (a mini chopper made to your specifications) like pocket bikes are miniature replicas of their bigger originals. Many times you will hear them referred to a mini Harleys or mini hawgs, but the concept is the same: duplicate a 500cc motorcycle down to the last detail except for the engine, which invariably is a two stroke, not a four stroke engine.
Custom mini choppers are strictly for street and show only. The extended forks and dropped seats are not intended for off road or even extended commuting use. Unlike the pocket bikes though, mini choppers have a enough height to them that they are able to be seen by traffic, and hence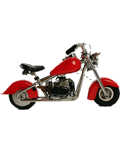 somewhat safer. You should still wear a helmet and be sure your lights are in working order.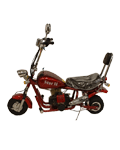 Custom mini choppers are not built for speed. These mini motorcycles will typically weigh more
Some mini choppers have false engine in them to follow the scale appearance. The engine is totally non functional but appears to be true to the original design. Features such as this add weight, but again these mini choppers were never intended for race or competitive use.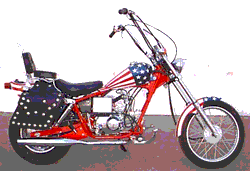 Custom mini choppers generally fall into two sizes. "Mini's" typically have a 27" wheelbase (distance from axle to axle). Rad Scooters offers a mini chopper with a 51" wheel base pictured here. It's basically a light weight motorcycle, but with the 49.5cc engine, it still does not require a license in most states.Similar to gas powered scooter custom mini choppers can be upgraded with high performance parts. One clear distinction between a mini chopper and a moped though, is that a mini chopper should not be considered a long range commuter vehicle. If you are looking for road worthy motorcycle style transportation, then you should consider one of the many mopeds I represent.

Some mini choppers get their raked look (extended front forks) by using two different sized tires. Typically the front tire will be an inch larger than the rear tire. This does not affect the handling of the mini chopper appreciably and does add to the look of the bike. Some pedal bikes are actually following this same practice, again just for the cosmetics.

I represent seven gas powered mini choppers ranging in price from $315 to $2399. Of the group my personal recommendation

is for the Pocket Harley Gas Scooter. It features a profile reminiscent of the old Indian Motorcycle Corporation with the spring seat, and full fairing fenders.

Custom mini choppers are one of the few gas powered scooters that are much fun to look at as they are to ride. If you have been longing for a full size Harley Davidson style motorcycle but couldn't pony up the price, these mini choppers would make for a fun alternative.

Click here to see the full line up of 7 mini-choppers.
---
We try to answer all your questions in the articles above. Still have a question? Write to us at info@gas-scooters-on-the-web.com and we'll answer it.