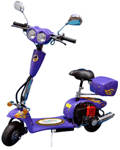 Boreem Iron Man Gas Scooter Specs
Maximum Speed: 30mph

Engine: 43cc / single cylinder / air-cooled / two stroke

Drive System: Chain driven with adjustable rear wheel tension,

Variable speed hand throttle (motorcycle style),

Clutch: Freewheeling for easy coasting. Starter: Pull & electric / keyed ignition

Tires: 10" X 4" pneumatic (air filled)

Warranty: 30 Days on parts

Brakes: front disc brake & rear drum

Gas Tank: 1.2L

Engine Power: 43CC

Fuel/Oil Ratio: 25-30 to 1

Dimensions: Length 44", Width at handlebars 24.5", Width at the deck 9" Height 44", Height folded 21.5

Batteries: 1x12V - 12Vah

Range: up to 35 miles per tank

Battery Use Cycle: 350 times per battery

Frame: Heavy duty steel frame with a stamped aluminum foot plate and fiberglass body. Non-slip grip tape decking.

Charge Unit: 90-250V/12V/1.6 +/- .2A (CE)

Age Recommendation: 16 and up

Charge Time: 4 to 5 hours

Carrying Capacity: 300 lbs
$299
Booreem Iron Man Gas Scooter
Style: Street
Vendor: Samszone
This gas scooter previously retailed at Samszone for $349. With the price drop you can get a lot of scooter for your money. It comes with a ultra wide, double padded, removable seat. The seat features adjustable height, double springs and a spring loaded shock absorbing seat post.
I like the super bright "ET Style" headlights and it's one of the few street models that comes with directionals and a working brake light as well as a horn. This gas powered scooter also comes with an extra large locking cargo box and a tool kit. Huge 10"x4" tires with a chain drive and disc front and drum rear brake round the package out. The reference to the battery is strictly for the lights, horn and directionals; there is not an electric motor on this gas powered scooter.
A very impressive gas scooter for a great price.