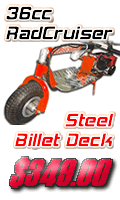 Dry Weight: 31 lbs

Engine Model: Hausheng

Engine Description: Single Cylinder, Two Stroke, Air Cooled

Deck: Billet Steel (No Charge)

Engine Displacement: 36 cc

Engine Starting: Pull

Engine Power: 2.5 HP

Engine Cutoff: Handlebar Kill Switch

Carburetion: 9 mm / 8 mm Carb

Transmission: Centrifugal Clutch

Free Wheel Capable: Yes

Throttle Control: Variable Speed

Min Speed: 0 mph

Max Speed: 25 mph

Cruise Speed: 15 mph

Tire Adjustment: Automatic

Fuel: Gas & 2-Stroke Oil @ 25:1

Fuel Capacity: 1 Liter

Running Duration: 2-3 hrs

Fuel Economy: 100 mpg

Max Load: 275 lbs

Wheel Type: Rubber, air-filled tube Tires 9" x 3.5"

Rear Brake: disc
$349
Style: Gas Scooter
Vendor: Rad Scooters
Harvey's Choice!
Rad Scooters is noted for their rugged design and this 36cc gas scooter is no exception. Although it does not come with shock absorbers, it does have over size 3.5" tires to absorb the punishment. The steel billet deck is stated to be an $80 extra being provided free of charge. Typically you would see aluminum foot decks in that price range, but not steel. Still it's a far sight better than a stamped sheet metal that you see on cheaper gas scooters.
The disc brake is a nice touch as are the handlebar options.
New for 2004: The top of the "Goose neck" handlebars, now comes with a PRO style cap. You can easily change the handlebar grip position, and even change your handlebars, to off-road or ape hanger styles.

New for 2004: Telescopic and foldable neck on the handlebars. Makes it easy to fold and store your scooter, by just pushing up the retractable spring loaded bar.