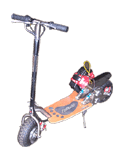 43cc Tornado Chrome Gas Scooter Specs
Engine model: Hausheng

Fuel Capacity: 1.5 Liter

Engine Description: Single Cylinder, Two Stroke, Air Cooled

Running Duration: 2-3 Hours

Engine Size: 43 cc

Max Load: 350 Pounds

Engine Starting: Pull

Wheel Type: Tube & Oversized All-Terrain Tires 10 x 3.5

Engine Power: 2.5 HP

Brakes: Front and Rear Disc Brakes

Engine Ignition: Electronic

Shocks: Dual Rear Suspension Shock

Engine Cutoff: Handle bar kill switch

Warranty: 30 Days Limited Warranty

Transmission: Centrifugal clutch with double drive belts

Fuel: Gas & 2-Stroke Oil @ 40:1

Max Speed: Up to 32mph (weight dependent)

Seat included: No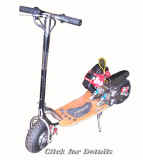 Click for bigger image
The host site makes reference to the footdeck being made of "strong nine ply Russian Burk wood". Google didn't have much to offer on "Burk" wood, so I cannot comment on how good a material it might be.
$379
43cc Tornado Chrome Gas Scooter Specs
Style: Gas Scooter
Vendor: Samszone
Harvey's Choice!
This gas scooter has some unusual features for a mid-range scooter. The dual, rear- suspension shock absorbers are unique. Most gas powered scooters that have shock absorbers use a singe mono-shock, but with the Tornado Chrome, you get two shock absorbers just behind the footdeck. You also get 10" tires which makes for a very smooth ride. The rear fender is a nice touch as well for anyone who is using a gas scooter to commute.
The double belt drive will run much quieter than chains and the fact that it has two belts tells me that this gas scooter has a gearbox drive. The frame is touted as being made from stainless steel which I doubt since it would be prohibitively expensive to weld. More likely it is made of chromed steel.
The 43cc engine comes from the factory installed with a Super Chrome Eliminator Pipe which accounts for the extra .4 horsepower they are getting from a 43cc engine. They claim this performance scooter exhaust pipe retails for $180.00 alone which sounds about right. The supporting text also touts a factory installed High Performance air filter with Velocity Stack kit which Neo Scooters sells for $39.95.
All in all, with all these features, I would recommend this gas scooter over the identically priced Super Razorback V2 Gas Scooter.